Our Blinds
Conservatory Blinds
When Conservatories first became popular in the 70's and 80's they were never sold to be used as extensions, more for extending our summer season. However the reality was that people wanted to use them all the year which had two major problems. They were too cold in the winter and too hot and bright in the summer. A stunning range of blinds followed to alleviate these problems. Fabrics are now available with a full range of thermally efficient backings and varying degrees of translucency, allowing you to truly control the temperature and glare in your conservatory. Whether you want to simply reduce the glare or dim out the room there will be a fabric to suit your needs.
Conservatories can be dressed with Vertical, Roller Pleated or venetian Blinds with the option to have Pleated and Venetian blinds installed using the "Perfect Fit" system. We can also manufacture and install Pleated blinds to your conservatory roof which have the benefit of a huge heat reduction in the summer and still being able to use the conservatory as it was intended in the winter. No need for expensive, unsightly plastic roofs.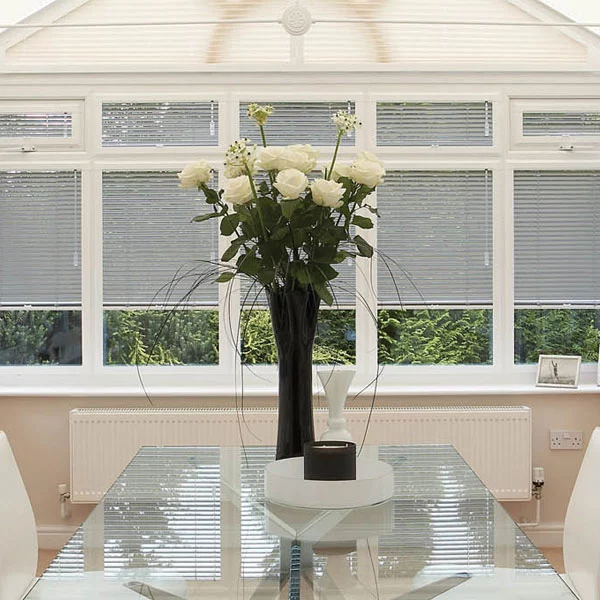 We are more than happy to discuss your individual requirements and can even arrange factory visits for you to observe the blinds being manufactured. We feel this is important as most online companies don't actually manufacture their own blinds (you should ask the question) leaving you vulnerable if any aftersales services are required.
Perfect Fit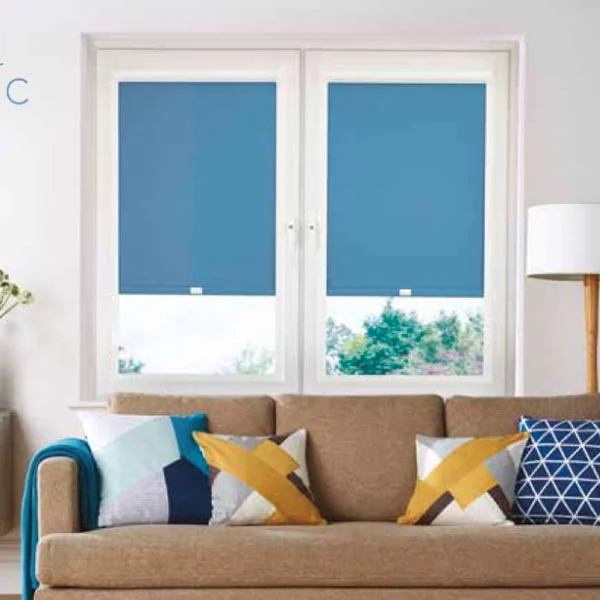 The Perfect fit style has evolved from a simple method of holding your blinds in place whilst you opened your door or window into being a truly practical and stylish solution to some quite inconvenient problems. The frames are now available in a comprehensive range of colours some of which make it difficult to tell the difference between the frame and the window. Perfect fit Blinds can be produced as Pleated,Celular,Venetian or Roller although there are limitations on the Roller styles. As Blind manufacturers, Polaris Blinds have been producing Perfect Fit Blinds pretty much since their inception and as such can claim to be experts in their production and installation. Furthermore because of the volume we produce we are able to guarantee both the quality and the price.
Commercial Blinds
Polaris Blinds have an enviable reputation within the commercial and contract sector. As suppliers to all local Authorities, NHS Trusts and major contract users we have the knowledge and experience to satisfy you or your clients requirements. We can offer a bespoke measure and installation service or supply only as a wholesale customer. All backed up with our unrivalled customer and aftersales service.
We understand that commercial users have slightly different requirements from our retail customers. We also understand the value of your time and are happy to deal directly with your clients as your representative with you safe in the knowledge that the finished project will be EXACTLY as specified.
Vision Blinds
Vision blinds are an innovative window furnishing that feature two layers of translucent and opaque horizontal striped fabric that combine to create a striking modern feel. Our made to measure collection offers you the perfect range of fabrics and colours to help you to create your statement look.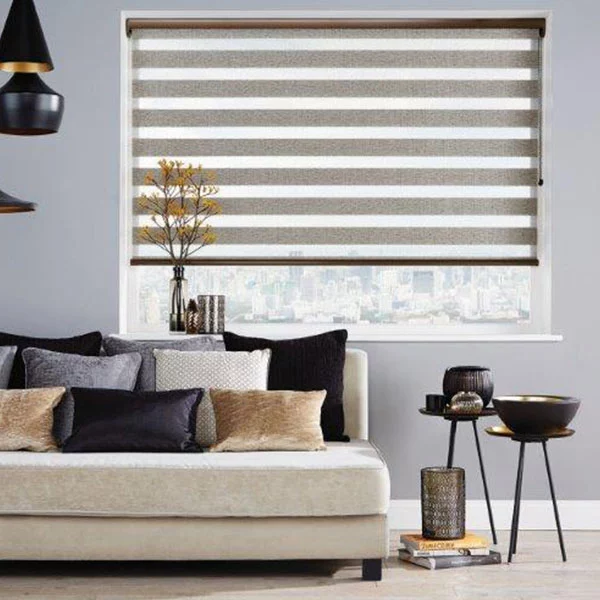 Contemporary Stylish Shading
Easy to operate, a single control is used to slide the opaque and translucent woven stripes past each other. The same operation is used to raise or lower the window blind to any height in the window with ease, in the same way the classic roller blind. The front layer moves independently of the back allowing the stripes to glide between each other creating an open and closed effect, with limitless light control.
Sliding the fabric into a closed 'opaque-opaque' position allows full privacy and an impressive block of beautiful fabric at your window, whilst the 'translucent-opaque' position creates a stunning striped statement.
Vertical Blinds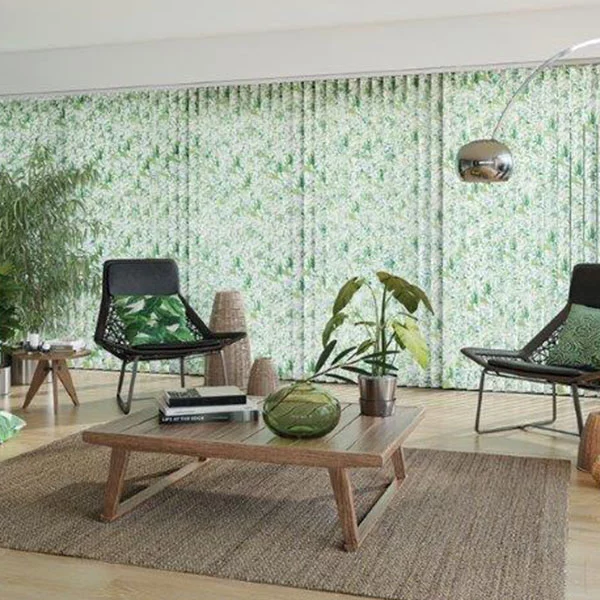 Vertical blinds offer you the ultimate in shading flexibility and privacy offering modern, clean lines and stunning fabrics.
Our made to measure blinds can be drawn neatly to the side to offer you unlimited views, or the louvres can be rotated to allow just the right amount of light into the room to maintain an element of privacy. They are an ideal option for wide windows, bi-fold and patio doors.
Try mixing and matching plain and patterned louvres to achieve a bespoke blind that really reflects your personality.
All our vertical blinds are designed to be child safe and we would recommend wand operation for convenience and safety.
Roller Blinds
Roller blinds are ideal window shading for any room in your home.
Our collection offers you the perfect range of fabrics from which to select, with high end lustres for living rooms, stylish blackouts for bedrooms and moisture resistant prints for bathrooms and kitchens – the choice is yours!
Your Style
Our UK designed and manufactured roller blinds are simple in design, stylish, reliable and easy to operate. The smooth operating system ensures the blind can be rolled up or down easily to achieve the required level of shading for you.
Our roller blind collection is an exciting mix of fabrics specially selected to complement and coordinate with any room in the home.
Whether it's one of our modern designs for your living room, a blackout fabric for the bedroom or a moisture resistant print for the bathroom, all our blinds are individually manufactured to your unique specification.
You can also add those finishing touches such as decorative scallops, braids, pulls, poles and eyelets to personalise your choice and co-ordinate with your interior design scheme.
Just for you
Whether the look you want is simple yet sophisticated or glamorous and elegant, our UK manufactured roller blinds will look fantastic in any room in your home.
Each made to measure window blind is tailored to your individual requirements. Roller blinds can create any type of mood or look that you desire and will allow you to express your personal tastes in any room.
We can even make your blind using energy saving fabrics. Choosing fabrics with enhanced insulating properties will reduce heat build up in summer and heat loss in winter, reducing heating and cooling costs in your home.
Many of our fabrics ranges are also available as roman, vertical and panel blinds to give you perfect coordination.
Sweet Dreams
We have developed a new range of cool and colourful children's prints for our new collection, fun prints inspired by popular and fashionable themes, ideal for babies, children's & play rooms – or even just for the child in you! All designed to appeal to your little ones and make you smile too.
Our new range of exciting children's fabrics include colourful prints, playful patterns, cute characters and even a glow in the dark blackout roller blind.
Pleated Blinds
Our pleated blind fabrics will provide you with the ideal combination of performance and style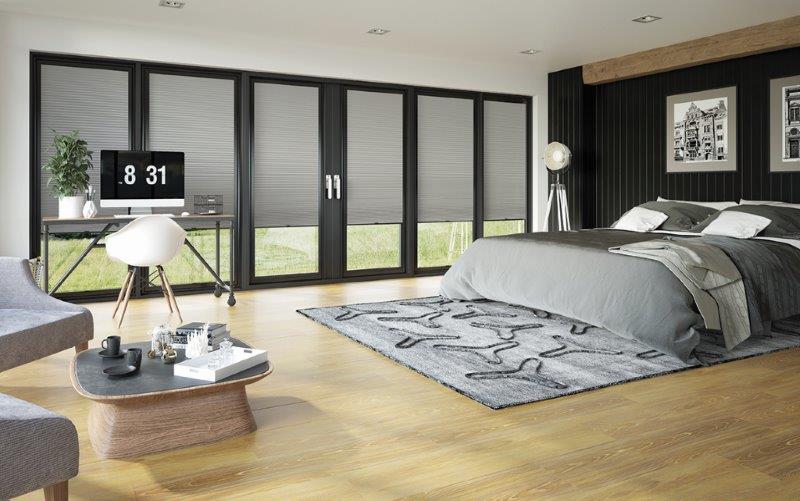 Stunning colours, tones & textures
Our stylish range of Pleated blinds create a whole new look for your home and will provide shade and security incredibly effectively.
Enhanced Efficiency
SPC® (Solar Protective Coating) treated fabrics have advanced solar and optical properties that will flter light, reduce glare and help lower heat build up in your room. ESP® (Energy and Solar Protection) are a blackout fabric that offer total protection against excessive sunlight.
Panel Blinds
Panel blinds are an ideal choice for those who want to make an impact and add something a little different to their interior design scheme. With their exible nature, not only do they make a sleek window decoration for larger windows, bi-fold or patio doors but they are a fantastic choice for room dividers.
Show Your True Colours
Transform your space for modern living with chic and contemporary panel blinds.
A versatile and contemporary way to control light, glare, view and privacy, panel blinds provide an innovative shading solution for larger windows and patio doors.
When open, the panels stack neatly behind one another allowing maximum light to enter the room. Sliding the panels into the closed position creates a unique fabric screen that provides light control and privacy.
Our UK manufactured panel blinds also make stunning room dividers that can be used to great effect in creating new living spaces within a modern home.
Panel blinds are designed not only to be long lasting and look beautiful, but to be energy efficient, reducing solar gain during the summer months and help insulate your home through the winter.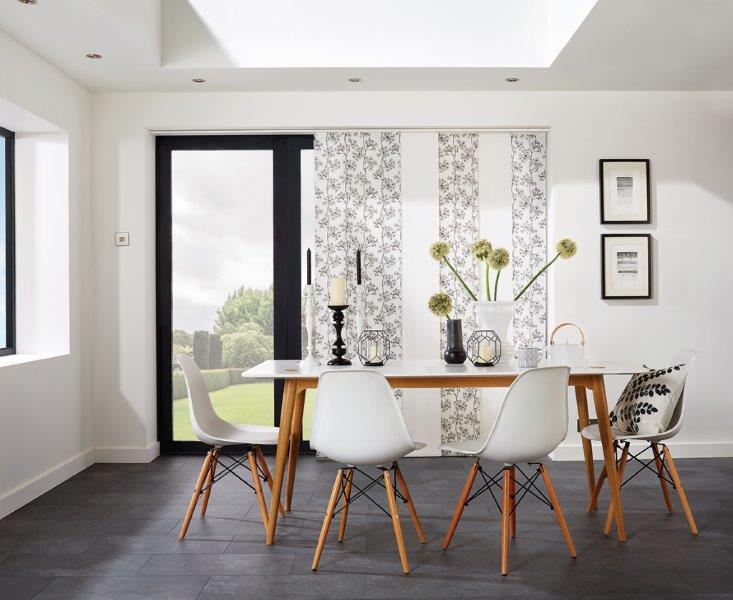 Picture Perfect
You can also choose either a side or split draw panel blind to perfectly suit your window's requirements, mix and match fabric colours and textures to create an eye catching statement in your home, whatever you require we've got it covered.
All our blinds are of course child safe and the panel blind is another example of this, we recommend the wand control giving you complete piece of mind in a chic, efficient and sophisticated way.